Euro 2020: Spain knock Switzerland out 3-1 on penalties to reach semi-finals
The pulsating action continues at Euro 2020. In a hard-fought quarter-final, Spain defeated a 10-man Switzerland 3-2 on penalties.
Despite being down by a man, Switzerland came up with a valiant effort in the 30 extra minutes but Spain held their nerve to seal a berth in the semi-finals.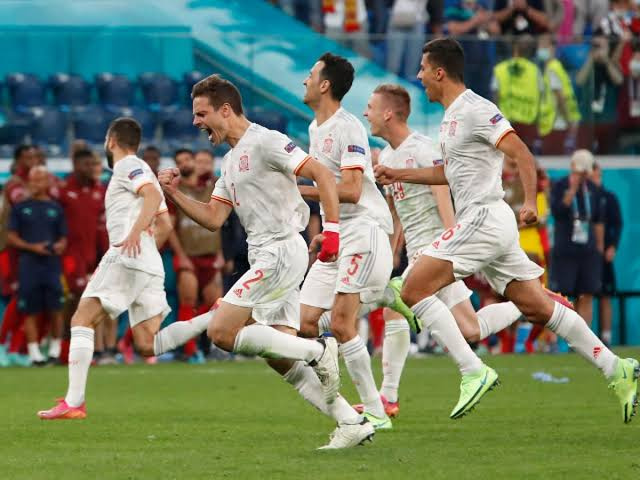 Spain's players and coaching staff ran onto the field at Saint Petersburg Stadium while many from the Switzerland team fell to their knees after Mikel Oyarzabal struck the decisive penalty to earn La Roja's a spot in the semi-finals of Euro 2020. Oyarzabal scored past goalkeeper Yann Sommer, whose penalty save on France striker Kylian Mbappe's shot in a shootout in the round of 16 had put Switzerland into the quarterfinals for the first time.
Sommer came up with a string of diving saves throughout the match to keep the Spanish at bay as the Swiss hung to a 1-1 draw after extra time. Spain's Gerard Moreno, in particular, squandered four chances by poor finishing or the acrobatics of Sommer.
Switzerland had scored all five from the spot against World Cup champion France but failed with three of its four attempts this time against Spain.
Spain keeper Unai Simon saved Switzerland's Manuel Akanji and Fabian Schar's spot-kick while Ruben Vargas hammered his shot over the bar.
Denis Zakaria — Xhaka's replacement — had the misfortune of slicing the ball into his own net in the eighth minute after Jordi Alba latched onto a corner from the right that had sailed over everyone's heads in the area.
Zakaria looked distraught and was consoled by his teammates as they prepared to restart.
A defensive mix-up brought about the Xherdan Shaqiri's equalizer in the 68th, which came just as Switzerland had started to threaten.
Spain will face the winner of Friday's other quarter-final – a heavyweight contest in Munich between two pre-tournament favourites Belgium and Italy – in the semi-finals in London on Tuesday.