Istanbul's Politics & Football; See President playing with his Team.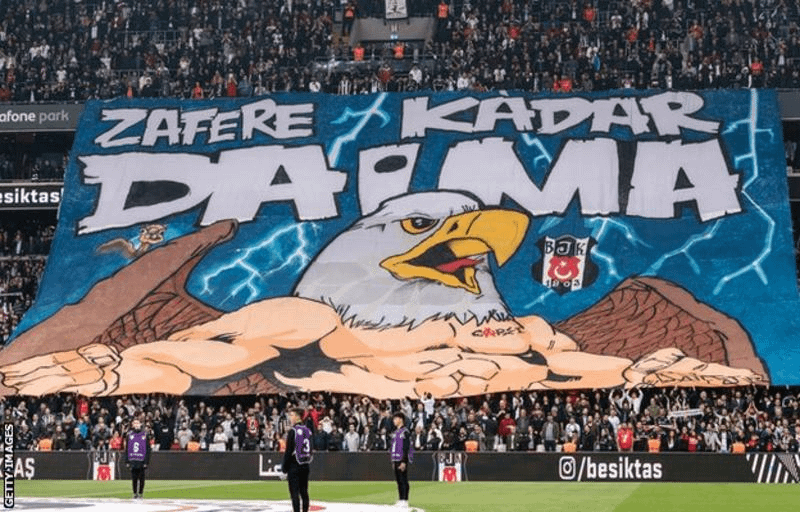 The Besiktas fans chanting before their home match against local rivals Istanbul Basaksehir and it is very, very loud.
Football in Turkey's biggest city always means colour, passion and noise, but Saturday's game was being played in special circumstances, between two very different clubs.
Istanbul is going through tense, uncertain times. Recent local election results show President Recep Tayyip Erdogan's favoured candidate was defeated here, but his ruling party have refused to accept the outcome and ordered a recount.
The chant the Besiktas fans were singing calls on Erdogan to "hand power to Ekrem Imamoglu", the 'winning' candidate who was at the match, sitting beside Besiktas' chairman.
This is Turkey in a nutshell – politics and football are intertwined, there is no escaping it. As for Basaksehir, league leaders and a new power on the scene, they have close ties to Erdogan.
Founded in 1990 as an amateur side, they rose rapidly through the leagues and reached the top flight for the first time in 2007.
But it was in 2014 when their fortunes really started to change. That was when a group of businessmen close to Erdogan's ruling AK party took over.
Former Turkey manager Abdullah Avci was appointed manager and Goksel Gumusdag came in as club president – he is married to the niece of Erdogan's wife Emine.
A former semi-professional player, Erdogan scored a first-half hat-trick in a 9-4 victory for his side in a remarkable display, with newspaper Daily Sabah likening his second goal, a chipped effort, to something Barcelona's Lionel Messi would score.
Erdogan wore the number 12 shirt in that game and was voted in as the country's 12th president a month later. Basaksehir paid tribute by officially retiring the squad number.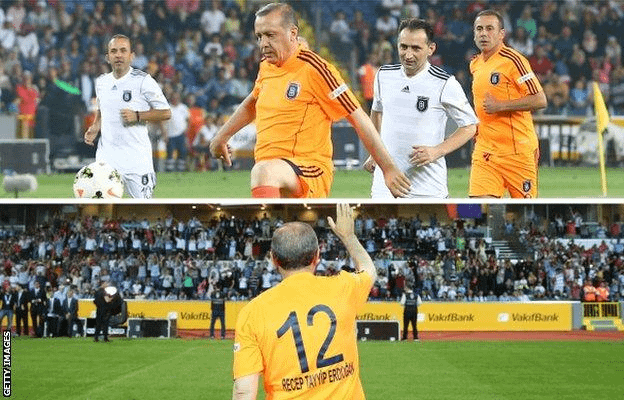 Basaksehir may have reached the top of the Turkish table but many see their route as an artificial one, relying on outside investment that has paid for new players and a new stadium.
Their success rankles rival supporters, especially those of Besiktas, a club that pride themselves on being Turkey's oldest. They were established in 1903, pre-dating the nation itself – the Republic of Turkey was officially proclaimed in 1923.
If Basaksehir are a 'pro-government' and 'pro-Erdogan' club, Besiktas can be seen to stand for exactly the opposite.
During the afternoon before the game, the narrow winding streets of Istanbul's Besiktas district were a sea of black and white. Anyone wearing another team's colour might have found themselves in a spot of bother.
The club's Carsi ultras congregated around a statue of a black eagle – the team's emblem – and as a man circled around me smashing a drum, a little too close for comfort, you could still make out the afternoon azaan (call to prayer) ringing out among the mosque minarets that dominate the skyline.
The flashpoint appeared to come when police used tear gas in an attempt to disperse campaigners. In the long, violent clashes that followed, thousands were injured and 22 people died.
Although Gezi Park has since reopened, it was closed again on Saturday. A large police presence had cordoned off the area with anti-riot vehicles amid rumours President Erdogan was about to declare the local election results void.
After Saturday's match there is a more joyous mood among the Besiktas fans. After 90 minutes of singing, smoking and bouncing there is a victory to celebrate, too.
Ex-Real Madrid and Manchester City forward Robinho, 35, had put Basaksehir ahead. The Brazilian is one of several ageing big names to have arrived in recent years, joining ex-Arsenal and City striker Emmanuel Adebayor, also 35, and former Chelsea striker Demba Ba, 33, in a team captained by former Newcastle midfielder Emre Belozoglu, 38.
But the home team scored twice to win 2-1. Despite defeat, Basaksehir were still eight points clear of third-placed Besiktas. Yet the result meant their closest challengers could narrow the gap across town on Sunday, in the city's biggest derby of all, between heavyweights Fenerbahce and Galatasaray.
With the two teams situated on opposite banks of the Bosphorus, their games are known as the 'Intercontinental Derby' – Galatasaray are based in Europe and Fenerbahce in Asia.
Divided by social and cultural differences, they share a bitter rivalry.
Galatasaray are seen as representing the elite, formed by students from Galatasaray High School, the oldest in Turkey. To this day you are required to be a graduate to be a member of the team's board. Fenerbahce, meanwhile, are seen more as the 'people's club'.
Between them they have won 40 of the 62 Super Lig titles contested since the league was formed in 1959.